Our team have been extra busy spreading the Christmas cheer this year. Check out what festive treats have been going on behind the scenes.
---
The Reverse Advent Calendar
Advent calendars are so good they've almost gone full circle. Well, they've gone half circle. Basically, we're now doing them backwards.
As well as eating far too much chocolate this December, we're also giving something back. Every day, our team are donating a different item to the foodbank - speaking of which, if you haven't seen our inhouse foodbank already, you can find out what the fuss is about here.
After just one week there was already 105.4kg of food in the trolley, with more being added all the time (the photo is a 'before' shot - we promise). All donations going to the wonderful people at Bournemouth Foodbank.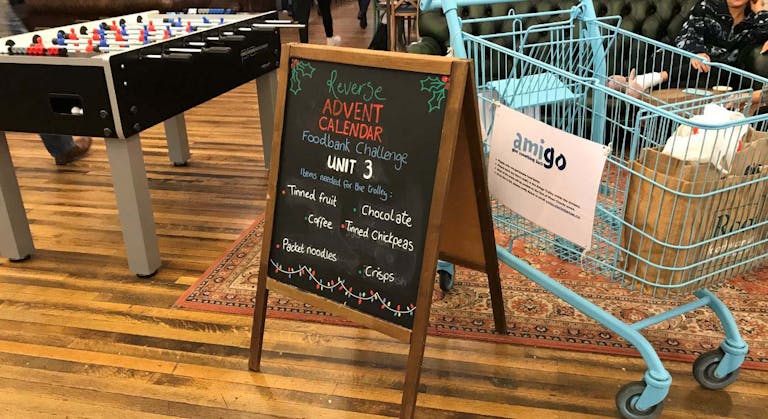 A bit of christmas carolling
Everyone likes to sing - in the car, in the shower, whenever Taylor Swift comes onto the radio. The lovely folk down at Abbeyfield Wessex Society retirement accommodation like to sing too. So, we thought we'd join them.
A select group of our most talented singers rolled down to enjoy a few carols and we all came away feeling extra festive.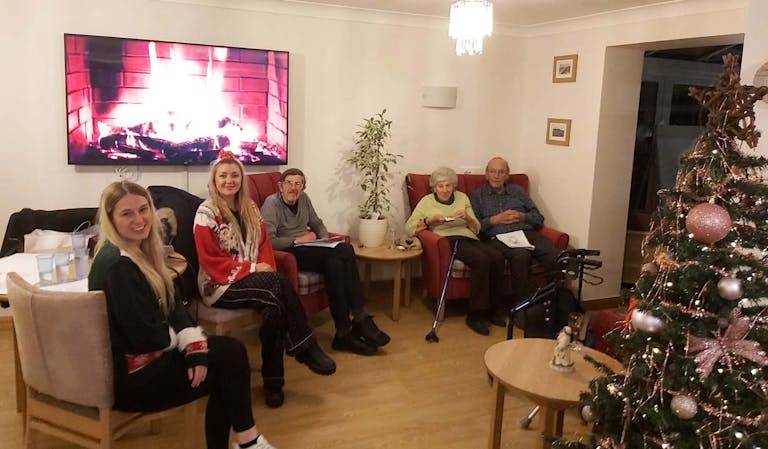 Christmas Jumper Day
Friday the 13th isn't just about bad luck, it was also Christmas Jumper Day!
As well as dressing in our merriest clothes, our cafe staff rustled up some delicious mince pies. All dessert-sales went towards the Globalteer's Helping Hands School project in Cambodia - more on the work we're doing with this charity at a later date.
In the meantime, enjoy this picture of us in our Xmas finest: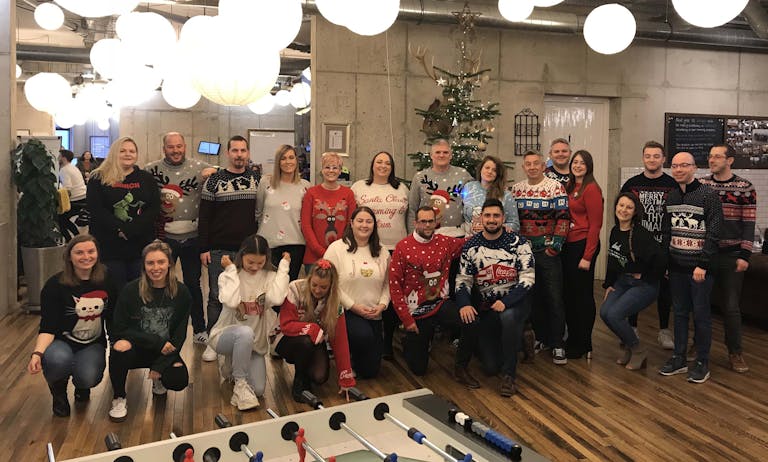 Presents for the homeless
While we think Christmas is amazing, the sad truth is it can be an incredibly difficult experience for thousands of people around the UK. 
As we're all in this together, we've been creating presents for Michael House - a drug and alcohol-free hostel that helps rehabilitate residents into a more independent life. It's not much but we hope our presents help make what can be a lonely time of year a little easier.
---
Enjoyed hearing what we've been up to? Give us a like and follow on Facebook to stay in the loop with all our updates!