It's officially the worst day of the year (according to a complex mathematical formula that we don't understand). But we're optimists - it's also officially 152 days until the start of summer! Glass half full and all that.
---
So don't feel blue, feel the blues! Line up BB King next on your playlist and check out our 10 tips to get you through Blue(s) Monday.
What makes Blue Monday so blue?
There are three types of blue. The first is the colour. Blue. A classic. The second is rhythm and blues. The best blue. The third is feeling blue. The worst.
When you factor in a number of things that make us feel blue - the weather, our motivation levels, the number of days since Christmas (and when we failed our New Year's Resolutions) - it looks a little like this formula: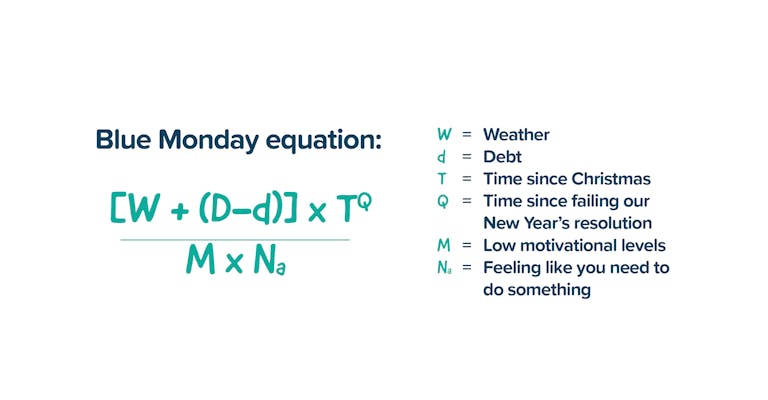 And it all adds up to one thing. 20th January 2020. The perfect storm. AKA Blue Monday.
But we're not ones to give in like that, so here are our tips for a [insert favourite colour here] Monday instead:
Exercise
Start moving. Go for a walk or a jog. It will boost endorphins throughout your body making you feel great from top to bottom.
Take a break
Get away from your desk or your workspace. Take a seat in a cafe and enjoy a coffee while you watch the world go by around you.
Bake a cake
Share the joy and help your friends or colleagues feel better by baking them a treat.
Watch a feel-good film
Harry Potter? Dirty Dancing? Almost anything from Disney? Put on your favourite film, lay back, enjoy.
Play a game
Embrace your competitive side and challenge your friends to a table-tennis tournament or a game of foosball.
Practice Mindfulness
Download a mindfulness app and try out a 10 minute session. Calm or Headspace will leave you chilled in no time (or send you to sleep).
Be nice to a stranger
Smile and say hello to someone you don't know. You'll make them feel good and you'll also feel great for having done so.
Plan something new
Ever been to a pottery class or learnt to play an instrument? Sign up for lessons!
Cook dinner for a friend
Invite your friends round for a nice meal. Get everyone to help out in the kitchen and share the moment.
Call your family for a chat
Christmas has gone but don't lose that connection with the family - get in touch.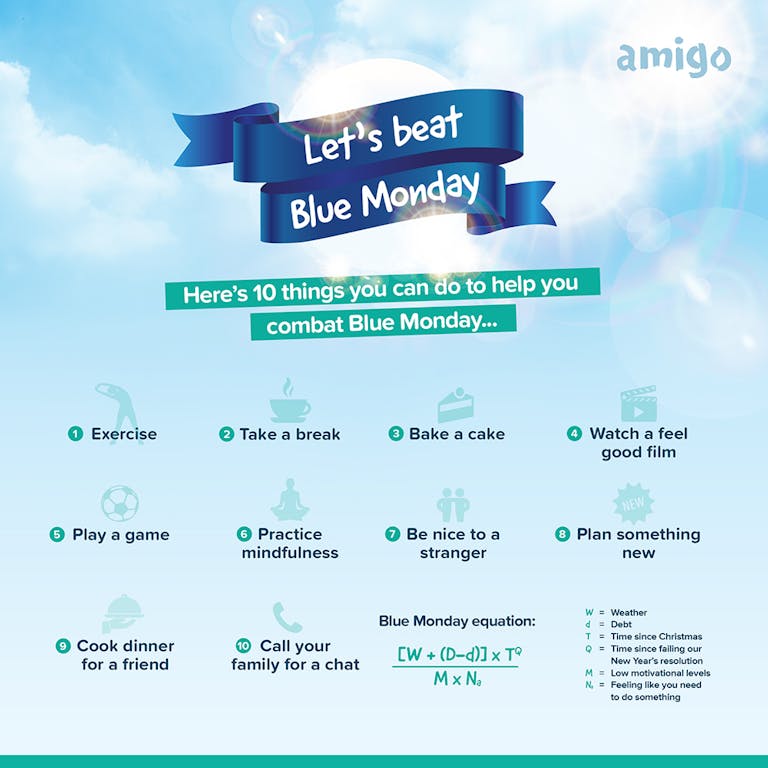 Any other ideas? Let us know what you're doing to banish the blues this cheery Monday.
And remember, it's 152 days until the start of summer - mark it in your calendars now.
---
Want to stay in the loop with our future updates? Give us a like and follow on Facebook and you'll be one of the first to see what we're up to!