Rather than sitting quietly and waiting for winter to pass, Amigo Loans have been keeping extra busy the last few months. Introducing Globalteer's Helping Hands School project - Cambodia.
---
Amigo Loans on Tour
Way back in the year of 2019, a few creative sparks at Amigo Loans were sitting around wondering what more we could do to give something back.
We've always been involved with a number of local charities (more on that here), but that alone didn't seem like enough. We wanted to do something more. Something bigger.
And that sitting around eventually led to an idea. "How would you guys feel about an annual Amigo Loans Charity Trip?" 
Introducing, fresh for 2020:
Globalteer's Helping Hands School project - Cambodia.
Helping Hands Cambodia's story
Globalteer's rural school in the town of Siem Reap, Northern Cambodia, provides free education to almost 300 children. Focusing on health, hygiene and nutrition, they help the poorest escape the cycle of poverty.
They also need volunteers - step forward Amigo Loans. As well as teaching English, arts & crafts, and sports, volunteers are also needed for food preparation and maintenance of the project's facilities.

So we asked our teams: who fancies a challenge?
Choosing who gets to go
The response was huge. Which was unfortunate.
With only so many places available, we needed to narrow down the numbers. Cue an 'I'm a Celebrity' style reality TV show with the contestants competing against each other until there's only one winner . . . just kidding. Kind of. We actually split the contestants into groups and asked them to pitch ideas to make Amigo Loans greener.
The presentations were genuinely brilliant, with ideas ranging from projects to stop wasted water consumption to carbon offsetting in our cafe. From there, we cut it down to the winners.
So, without further ado, meet the team: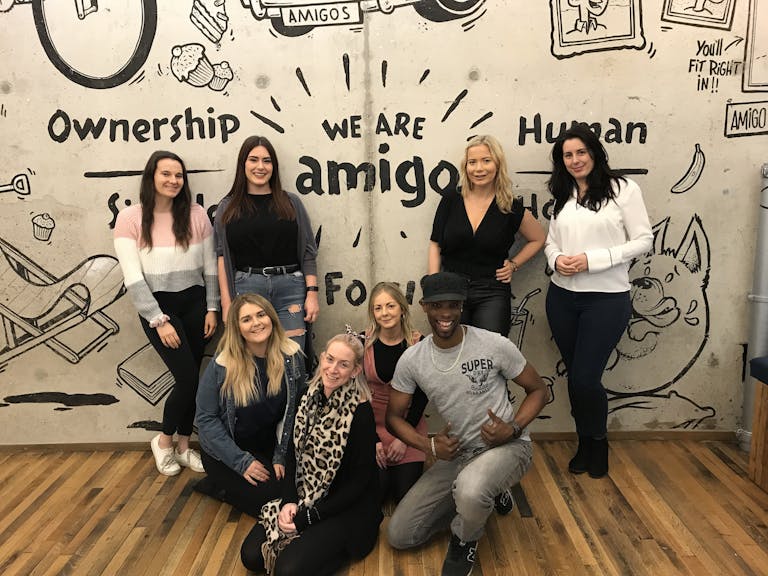 Well, some of the team. There were 12 winners overall but we could only find 8 at the time of this photo. The other 4 will turn up eventually (we hope).
Fundraising
As well as volunteering their time, we also asked our winners to raise as much as they could for the Globalteer's Helping Hands Projects.
Fundraising included a 'Friends' inspired quiz, mince pies & Xmas jumper day, present wrapping, a raffle, and a games night.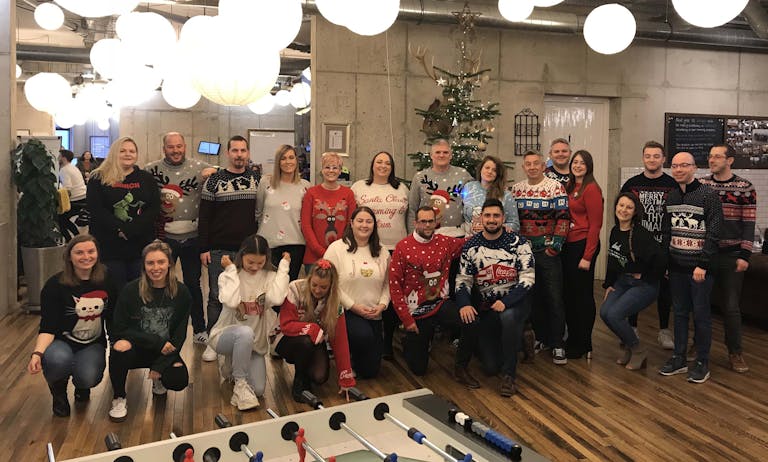 So far a whopping £7,552.75 has been raised with time still to go. 
This is an enormous achievement and we'd like to say a huge well done to everyone involved. We're incredibly proud to be helping such an amazing organisation and hope that, thanks to everyone at Globalteer, we can make a positive and lasting difference at the Helping Hands school project.
We'd also like to wish our team good luck ahead of their trip. We know they're excited to get involved and we look forward to seeing what they get up to over in Cambodia.
With that in mind, don't forget to stay tuned for our Part 2 update towards the end of February! We'll have fresh photos and videos straight from Cambodia once everyone returns from their adventure.
---