Our glamorous sky-blue trolley recently turned six months old. We thought we'd celebrate this momentous achievement by celebrating its origin and all the good it's caused.
---
Cast your minds back to April 2019. Theresa May was still Prime Minister, bucket hats had come into fashion, and Brexit had only been extended twice.
It was also when we first said hello to the famous Amigo Loans Blue Trolley.
What's the story behind this beautiful trolley, I hear you ask? Sit down, get comfortable, and we'll take you on a journey.
An idea from the blue
Back in Spring 2019, a delightful group of people at Amigo Loans put their minds together and had a thought. While we're optimistic by nature, the sad truth is that crisis can strike for anyone at anytime, and it's just a little too easy to take our lives for granted.
So we asked a simple question - what could we do to change that?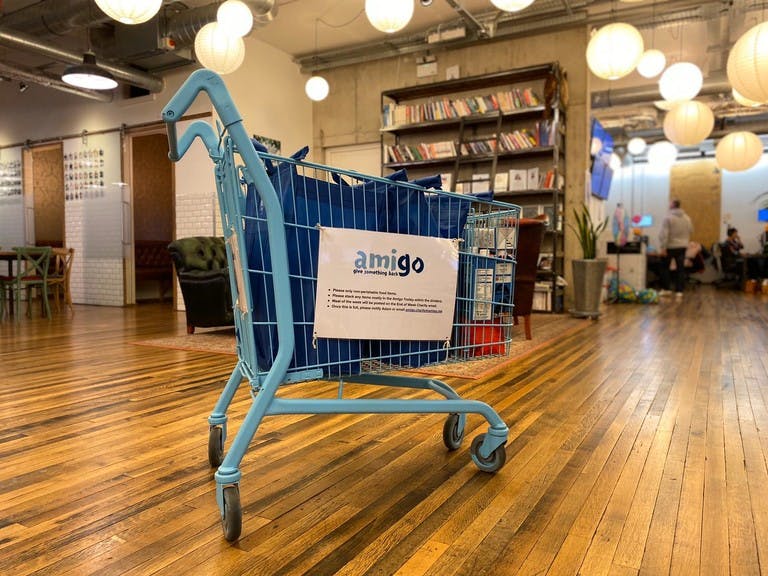 Reaching out to the community
First things first, we looked around our local community. We're a small team tucked away on the south coast and it made sense to start local.
And as it happened, that's where we came across the Bournemouth Foodbank.
Their project is simple - to provide emergency food to people in crisis. People go hungry everyday and for all sorts of reasons, from redundancy to illness to an unexpected bill. The Bournemouth Foodbank, thanks to donations from the public, are there to offer food and a friendly face when it's needed.
We thought that was pretty great and were keen to get involved. One thing led to another and the idea of our very own 'in-office' foodbank collection-point was born.
Drawing up the 'blue'-print
So how do you actually set up your own foodbank? Well, first of all, you get someone with some questionable artistic talent to draw up a blueprint: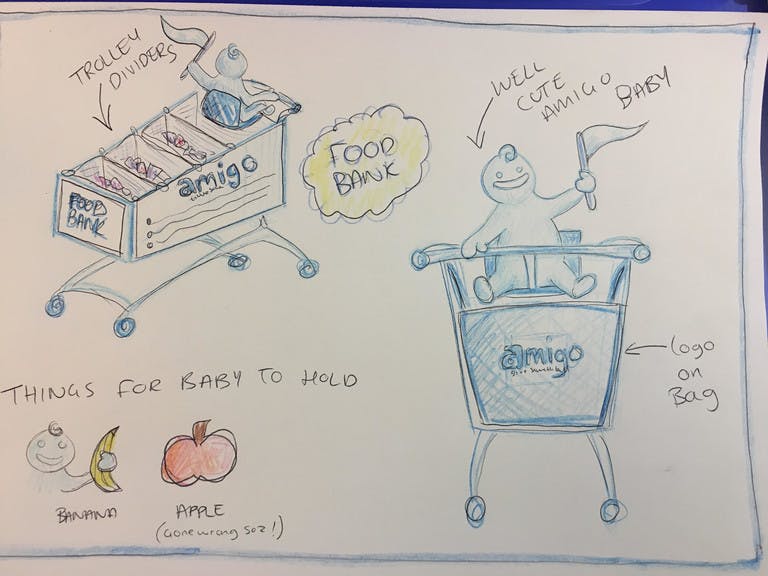 Next, you ask around to see who has a spare trolley they'd be willing to donate to the cause (a slightly odd request but we found one soon enough). Then you spray-paint the trolley 'Amigo Loans Blue', put in some dividers, and voila.
Say hello to our beautiful foodbank.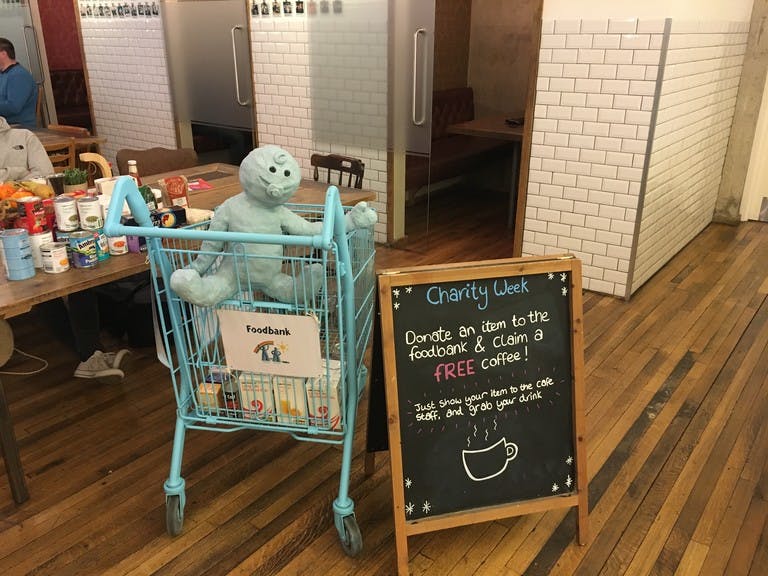 This coincided quite nicely with our annual Charity Week and so a lucrative reward-scheme was offered to our staff: donate an item of food and grab a free coffee from the cafe.
And by the way, if you're wondering about the blue baby, he didn't last too long. Turns out it's quite hard attaching a paper mache head to a body and expecting it to stay in one piece.
We get competitive
So we launched the Amigo Loans foodbank. Our staff bring in all the food and toiletries they can, drop them in the trolley, and we carry it down to the Bournemouth Foodbank once a month.
Naturally it doesn't take long for things to get competitive. 'The Foodbank Challenge' goes live, with one team each month being nominated to pool their efforts and see how much they can come up with.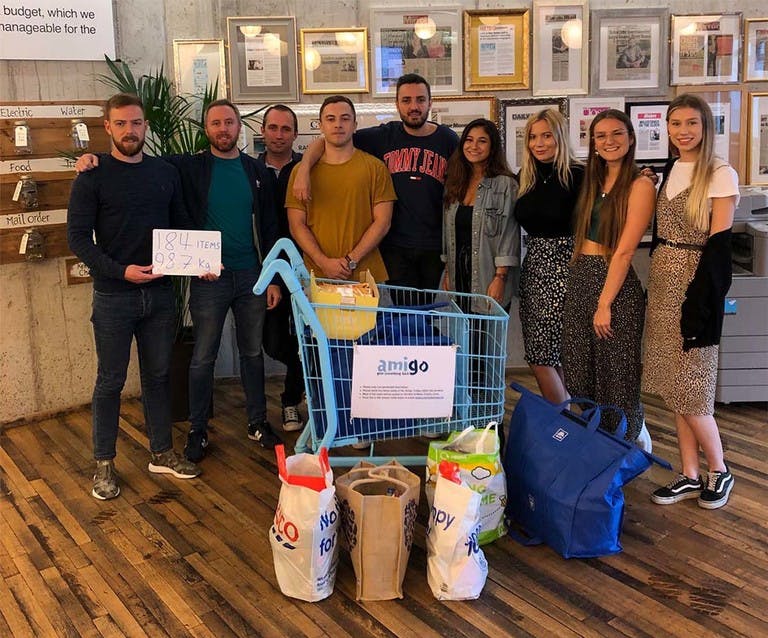 Here's our temporarily record-setting 98.2kgs - a record that was broken after just one month.
Six months later
And that brings us up to the present. Between us, and thanks to everyone at Amigo Loans that has stepped up to the challenge, we've so far raised a total of 1335 items weighing a combined 646.2kgs.
As well as supporting Bournemouth Foodbank, we've also opened up our food donations to Michael House. They're another great local charity we've been getting involved with so keep an eye out for more updates on that front in the future.