Have you been asked to send in proof of your income, ID, or something else? Nothing to worry about - find out why we're asking, what we need to see, and how to send it.
---
We like to keep most of our application checks rolling smoothly in the background. That means less faffing about and more time for you to do whatever it is you like doing.
That being said, we may occasionally need to ask for the odd document or two to double check something. As good as our online checks are, there are some things they just can't do alone that need a human touch.
Making good decisions
The documents we ask for could be anything from a bank statement to proof of your identity. 
While we believe everything on your application should be down correctly, it's best to be sure. After all, a loan can be a big deal. Getting everything right means we can be sure the loan is going to be suitable and affordable for the full term.
In short, we like to make sure we have your back.
Open Banking
The most common thing we'll ask for is a bank statement. Fortunately, Open Banking has made this easier than ever to send over.
If this is new to you, Open Banking is simply a way of sending us a read-only view of your online bank statements. It's completely safe, only takes a few moments to process, and should contain all the information we're looking for - all in one tidy place.
The Open Banking service we use is called Credit Kudos and you can find more information about them here.
To send us a read-only view of your bank statements, we'll send you a link to Credit Kudos where you'll then be asked to fill in a few log-in details with your online banking. It's as simple as that.
How to download a PDF bank statement
If you'd rather not use Open Banking, you can also download a PDF (a digital file) of a bank statement straight from your online banking. This is completely secure and you can send it over to us without touching a single sheet of paper.
Here's some quick guides on how to download a PDF bank statement from each of the main banks' online banking services. Just click on the bank's name and follow the simple instructions:
If your bank isn't on there - not to worry. You can also check out these two guides here & here. They're not specific to any bank but have a very quick overview of how to download files from most banks in the UK.
Other documents and files - taking a photo on your phone
Sending something other than a bank statement? Whether it's your ID, a payslip, or something else entirely - it's still nice and simple.
You can either scan your document into a computer using a printer or photocopier; or, much easier, just take a photo on your phone.
If taking a photo, just make sure the image isn't blurry and contains everything we need to see (more on that further down).
How to send us documents and files
Once you have your file - whether that's a PDF bank statement, a photo, or anything else - you'll be ready to send it. The easiest way to do this is through our document portal, which looks like this: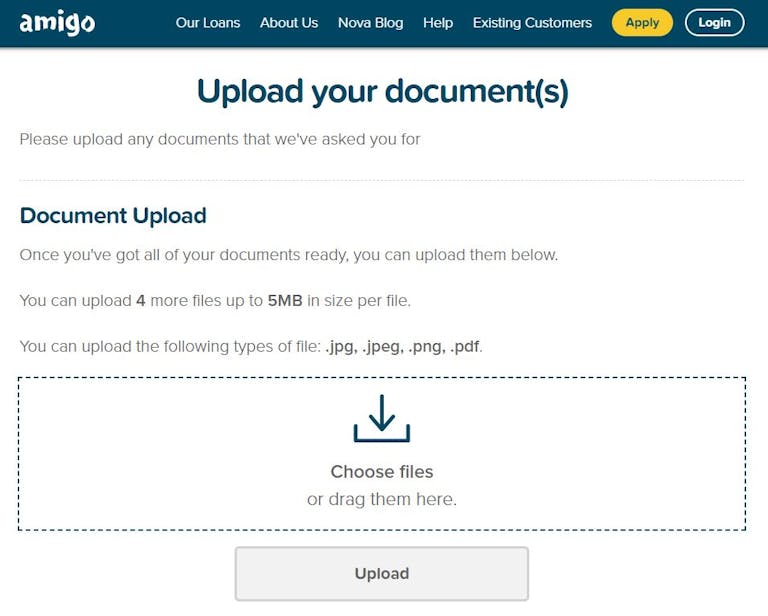 If we've asked you to send us a file, we should have given you a link to the document portal already. It's incredibly simple to use - just attach your documents by clicking on the box that says 'Choose files' and then click 'Upload'.
We'll do the rest from there or get back in touch if there's any issues - not that there should be any!
Emailing your documents
If you're unable to use the document portal for any reason, you can also send your documents by email.
Attach your files to an email and send it to [email protected]. We should be able to link the email to your account automatically but it's best to include your name, account number, and address just in case (this can speed things up).
What different document proof needs to show
Depending on what we need to confirm, the documents we request can vary. Either way, we'll always make it clear what we're asking for.
Please note that all document proof needs to be dated within the last 100 days (where applicable) on top of what we've mentioned below. Making sure it's all good to go first time round means no extra hassle and keeps everything rolling along smoothly.
Here's a summary of the general things we could request and what they need to show.
Bank account proof
PDF bank statement - we've mentioned how to download a PDF bank statement above, and they'll usually be the best thing to send over. They already have all the information we'll need clearly visible without you having to do a thing.
Bank statement - if you don't have online banking but do receive paper statements, this is fine too. This needs to show your full name, the account number and sort code, and the bank logo. It will also need to show your address and be dated within the last 60 days.
Income proof
All income proof needs to show your name (so we know that it's your income) and the transactions need to be dated within the last 100 days (rather than the date at the top of a bank statement, for example).
If you don't receive your income monthly (such as weekly or fortnightly), we'll need to see at least two instances of your income being received. For example, if you're paid weekly and send us a bank statement, this will need to show two weeks of wages dated a week apart.
Wage slip / Payslip - this should have your name and Net Pay (after tax) clearly visible.
Bank statement - this can also be a PDF bank statement (see bank account proof above).
DWP letter or statement - if providing confirmation of any benefits or Universal Credits, this will need to show the exact amount you're receiving and the dates you receive it.
Pension statement - this will need to show how much your pension payments are for and how regularly you receive them.
Contract of employment - if you've started a new job but haven't received your first payslip, we may in some instances be able to accept a contract of employment.
Invoices - we can accept invoices if you're self employed. This will need to show your company name (where applicable).
Proof of address
Your proof of address can be any official letter provided it has your full name and address clearly visible, and is dated within the last 100 days.
Any of the documents mentioned above would be fine, but you can also send a bill or ID (such as a driving licence) that includes your address.
Proof of identity
Sometimes we may need to request proof of identity, such as to confirm your date of birth. This can be any valid form of ID such as a passport or driving licence, and must be within date. We may also ask for something called a 'Video Selfie ID'. This sounds much scarier than it is, but we've given it it's own guide over here.
---
That should be everything covered but if you have any questions about sending in your docs, send us an email at [email protected].
For anything else, you can also check out our application guide here, or keep reading from the How-To section of our blog for more handy tips.
Once you're done, don't forget to like and follow us on Facebook and Twitter to stay in the loop with future updates.