Who is an Amigo customer?
Amigo customers come in loads of different shapes and sizes, what brings them all together is that they are trusted by friends and family.
We believe everyone falls into one of these 4 boxes: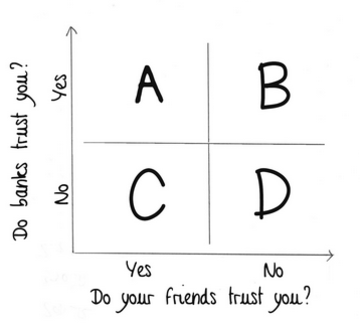 If you're in box A you can borrow from a bank and you will repay. You don't need Amigo, you're likely to think we're expensive.
If you're box B you can borrow from a bank, but we don't think you should be able to. Box B is the reason the credit crunch happened.
If you're in box C the bank's computer score has got you wrong. We estimate around 2 million people in the UK fit in box C. All Amigo customers are box C'ers.
If you're in box D you can't borrow from a bank or from us, in fact you shouldn't be borrowing from anyone right now. You might want to speak to Step Change - your friends are telling you something, they know you best and borrowing is almost definitely not a good idea for you.