Need help finding a guarantor?
You're in the right place.
What is a guarantor?
We should probably start by explaining what a guarantor actually is.
Well, a guarantor is someone who trusts you. They're someone who agrees to back up your loan and make any repayments that you miss.
Who can be a guarantor?
Almost anyone can be a guarantor, whether that's friends, family, a work colleague or a stranger in a bar. Okay, maybe not a stranger in a bar. Your guarantor needs to be someone that knows you well, and you need to trust each other.
Whoever you're thinking of, remember that your guarantor needs to meet this criteria: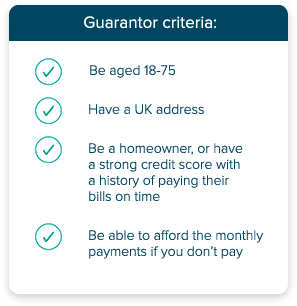 Your guarantor doesn't need to be a homeowner, but there's a stronger possibility we'll be able to accept them if they are. We'd always recommend asking someone you know who owns their own home to be your guarantor first.
Here are the answers to some commonly asked questions about who can be a guarantor:
What will you ask my guarantor?
When you've completed your five minute application, we'll need your guarantor to complete their part. They can do this right there with you, or we'll give you a link to send to them to do in their own time.
Your guarantor will then need to tell us a bit about themselves (name, address, date of birth) and once they're happy with everything, electronically sign their agreement. We'll then give you both an instant decision whether they've passed the initial guarantor criteria.
How do I ask someone to be my guarantor?
"Mum, Dad, Sister, Friend . . . I'm hoping to buy a new car but I don't have the money right now. Amigo could lend it to me, but I need someone who trusts that I'll make the monthly repayments to be my guarantor. Are you happy to help?"
Be honest, let them know why you're hoping to borrow a loan, and explain they could be the one making everything possible. Knowing they could be helping you out in a potentially life-changing way can be an amazing feeling, and the likelihood is they'll be honoured you asked.
Here's a couple things that can be good to mention:
Make it clear that you've thought your application through and have worked out it's the best option for your circumstances. We don't base our lending decision on your credit score, and our APR can be up to 25 times lower than payday lenders.
Let them know a guarantor loan with Amigo could improve your credit score, as long as you maintain your payments on time and keep on top of your other bills. 
Assure them you can comfortably afford the monthly repayments. And when things go wrong, Amigo will always try and come to an arrangement with you first.
Just remember, honesty is the key. You'll likely be asked why you need a guarantor at all, which could lead to an uncomfortable conversation about credit scores. Don't worry. As long as you're prepared and willing to speak openly about your finances, then soon you could be wondering why you were so unsure about asking.
We've also written a guide for any guarantors wondering about going ahead. If they have any concerns, chances are we've addressed it there. Send the guide their way and when they're ready, get in touch.
Does my guarantor need to complete a budget plan?
Before the loan can be paid out, we'll need to make sure your guarantor can comfortably afford any loan repayments they may need to make on your behalf. To do this, we'll ask your guarantor to complete a quick budget plan.
Lastly, we'll give your a guarantor a call to finalise the application and arrange paying out the loan. Just so you know, the money goes into your guarantor's bank account for them to transfer on to you.
Questions?
Anything we haven't covered?
Check out our guides below: